Animal Crossing: New Horizons Halloween Events on ACBellsBuy.com
Oct-27-2022
Autumn is the best season of the year! In Animal Crossing: New Horizons, the leaves change color just like in the real world, a fun fall vacation adds extra vibrancy to the game, and there's plenty of fall-craft-themed furniture. Now Halloween is a festival that players are more concerned about recently.
Are you so excited about Halloween that you can't wait to be scary? Why not turn your entire Animal Crossing home into an incredible haunted house? The seasonal Spooky furniture sets you can make are a great starting point for this design, but there are some other creepy options.
You can also add a creepy factor to your home with bug models and fake cobwebs. Lighting up your space with only candles will also add a spooky vibe. If you want some ghosts, create custom patterns and set up mannequins throughout your space. A haunted house theme is a great choice for fall and can easily be used as a theme for an entire space.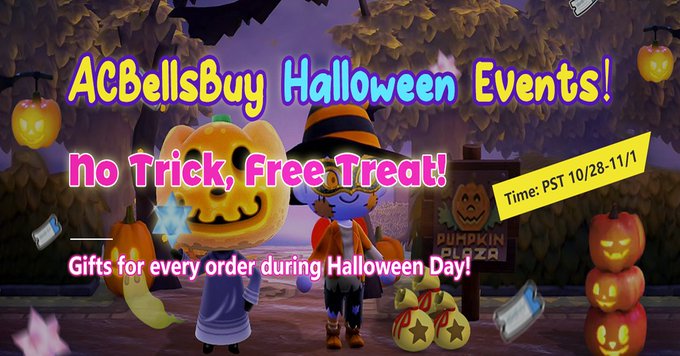 ACBellsBuy's Halloween Event!
Free Spooky Gifts: No Trick, Free Treat! Gifts for every order on Halloween Day!
Time: PST 10/28-11/1
Halloween Treat Event! Free Gifts for Every Order.
Order under $5, free 100 NMT; Order $5~10, free 400 NMT;
Order $10~20, free 400 NMT & 1200 materials; Order $20~40, free 800 NMT, 2400 materials;
Order over $40, free 800 NMT, 2400 materials, 1 fragments bundle, 2 crop bundle
The new UI interface of the ACBellsBuy website is helpful for users to better find the items they want. ACNH Bells and ACNH NMT are easy to find, mainly because there are many ACNH items, and the current classification is clear at a glance. We are committed to giving you a better buying experience!